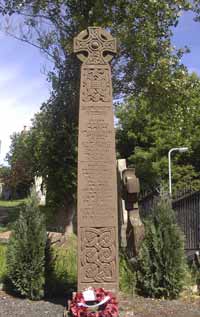 Priory Graveyard – Celtic Cross, the official village memorial
The first, and originally the official, memorial is in the Priory graveyard adjacent to the lych gate. The position was decided by a vote of relatives of those who had been killed.
This is a very fine cross in the Northumbrian Celtic school of carving, and was designed by W G Collingwood, John Ruskin's secretary, a leading authority on this art form.
Collingwood also designed the memorials for Coniston and Hawkshead.
The names of the fallen of World War II are on a stone in the surround. This view shows the memorial today.
St. George and the Dragon – Facing the station
The Second memorial is "St. George and the Dragon" and stands on a prominent site next to the railway station. This was designed and erected by J D Kenworthy, a local artist who lived at Seacroft House. His son Stanley was killed in 1916.
Kenworthy thought the official memorial lacked impact and should have been sited in a more visible place, hence he designed the St. George sculpture.
The huge block of sandstone was quarried in St. Bees and sculpted in London or Liverpool, where it was executed to Kenworthy's design.
Both memorials are now "official" and have been looked after by the Parish Council since the 1950's.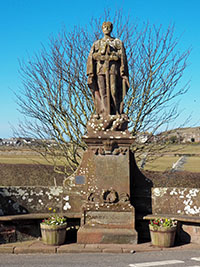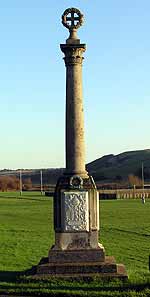 War Memorial on the School terrace
St. Bees School has its own War Memorial on the terrace adjacent to the Chapel, and there is a memorial to the School's three VC winners within the Chapel.
The large playing field between Pow beck and the Priory was laid out in the 1920's as a memorial, and is known as the "Memorial Field" to this day.
There is a comprehensive account of the St. Bees School dead in the First World War in the 152-page book "Roll of Honour and Record of Service" compiled by J W Aldous and published by the "Old St. Beghians Club" of St. Bees School in 1921. There is also a page of information on the Boer War.
"The Hand" – at the School Memorial Hall
Carved from Green Buttermere slate, this two metre high sculpture was executed by Josefina de Vasconcellos in 1955, and is sited next to the entrance of the Memorial Hall at St. Bees School.
The Hall was erected in memory of those former pupils and staff of St. Bees School who gave their lives in the Second World War.
The Hand is at the bottom of the steps along Wood Lane opposite the Headmaster's House.