St Bees Priory Church Clergy
Reverend Becky Gibbs
I am married to Phil and we have one son. We moved to St Bees in February 2017 from Cheadle Hulme, near Stockport. We are really enjoying life here and St Bees feels like home.
I love the sea, growing things and exploring the countryside with my family. I like to go the theatre and am especially fond of all things dance related. I am happiest when I am eating good food surrounded by friends and family.
Whether you are new to St Bees, or born and bred here, I really look forward to meeting you either here at the Priory or in the village, at the shop or on the school run – please do stop me and introduce yourself!
If you wish to contact Becky please ring her at the Vicarage on 01946 822279 or email her: revbgibbs75@gmail.com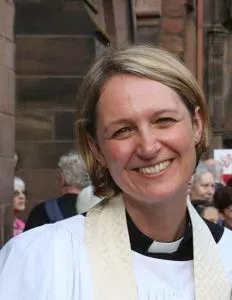 Reverend Jim Baker and Reverend Anne Baker
The Rev. Canon Jim Baker M.B.E. and  the Rev. Anne Baker retired to the village 2012.
Jim has been ordained for 50 years and following appointments in Sheffield, St Mary's Cathedral, Edinburgh and 10 years in West Fife, he became Team Rector of Whitehaven in 1984  and was 20 years in that post. During that time, he also served as  Rural Dean , Hospital Chaplain,   Chairman of the Whitehaven Community Trust and Non- Executive Director of the Primary Care Trust.
Anne started working life as a secondary school teacher and College Lecturer but became a full time vicar's wife on moving to Whitehaven. She was also very involved in Mother's Union, holding posts at Diocesan and National level.
Anne trained for the ministry with the Diocesan Training Institute and was ordained in 2001. She served here in St Bees as curate for 3 years, prior to her appointment to the Benefice of Eskdale, Irton, Muncaster and Waberthwaite . During her 8 years as Rector there, Jim was the Non – Stipendiary Priest in the Benefice.
The couple have 4 sons, 3 of whom are married and 3 grandchildren.
Reverend Jim Marshall
We have lived in the Parish for the past thirty years.  For eighteen of my thirty-five years of teaching, I worked at Whitehaven School.  During that time, I completed my Reader training, and in 2005 was launched into clergy training within the diocesan "dispersed learning" system.
The Bishop of Carlisle set me as Assistant Curate in the Parish of Lamplugh with Ennerdale, which was ecumenically linked with the local Methodist Circuit.
I was licensed Priest-in-Charge of the Parish and retired some two years later, to return to our home in Sandwith, where I serve, occasionally, within the Ministry Team in the Parish.
The Reverend Richard Lee
Richard was the Team Rector in Egremont & Haile Benefice until his retirement 2 years ago. Prior to that he had begun his ministry in  County Durham then travelling the world as an RAF Chaplain. He has been a Hospital Chaplain in Germany, a staff chaplain at NATO's Headquarters in the Netherlands and an Honorary Chaplain to the Queen. More recently he has become a Freeman of the City of London, then High Sheriff of Cumbria and now Chair of the County Priory Group of the Order of St John (Ambulance). 
On his retirement, he and his wife Deb, a former Consultant Paediatrician at the West Cumberland Hospital, moved to St Bees and he has continued his church work as a member of the Priory Clergy Team and as Rural Dean. He also continues his association with the RAF as Regional Chaplain to the RAF Air Cadets.
 Deb and Richard have 4 children – Jen, Michael, Peter and Andrew – also with links to St Bees having been educated at St Bees School.