You are either joking or own a helicopter!
Well this chap on the right did, and landed at the Parish Council garden, filled up at the Station Garage (now closed), and was on his way!
The nearest international airports are
– Newcastle airport (2.25hrs)
– Manchester (2.75 hours)
– Glasgow (2.75 hours)  or Edinburgh (3 hours)
These times are computed from AA route master, given without hold-ups or stops, and at least 1/2 hr should be added without stops.
Carlisle (1.5 hours) airport has recently opened and provides a limited number of flights to London Southend, Belfast  City and Dublin.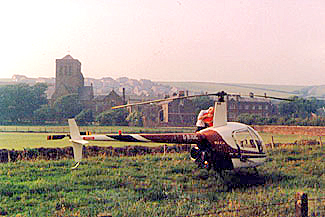 Airport Access
St Bees is about the furthest you can get in England from a commercial airport, though the development of Carlisle will hopefully improve this situation. Train travel from Manchester Airport is an attractive way to travel here after an international flight. Manchester airport station in within the airport and is easily accessible by travelator from arrivals at both terminals.
Rail travel from Newcastle airport is via the Newcastle Metro (station at the airport) then Via Newcastle Central station along the Tyne Valley Line to Carlisle, and then to St Bees.
Public travel from Glasgow airport requires bus to Glasgow Central station, then tran south to Carlisle and St Bees.
Tips for International travellers
You can reach St Bees quite readily by train/bus from all the major international airports, though Manchester is by far the easiest. See Train.
For international travellers, Carlisle is not a very good option.
Glasgow, Edinburgh, Manchester and London all have direct rail links to Carlisle and a branch line runs down the coast. There are later trains to Whitehaven, 4 miles north of St Bees, than to St Bees itself. A taxi ride from Whitehaven to St Bees costs around £10 or 12. 
There are airport road transfers, but they must be booked in advance.