Able Seaman LANCELOT THOMAS BELL
St Bees Dead of World War II
Roll of Honour
Able Seaman LANCELOT THOMAS BELL
C/JS 227913, M.V. "Empire Gem", Royal Navy
who died aged 24 on 24th January, 1942.
Son of George and Margaret Bell; husband of Elizabeth Bell,
Whitehaven, Cumberland
Remembered with Honour
CHATHAM NAVAL MEMORIAL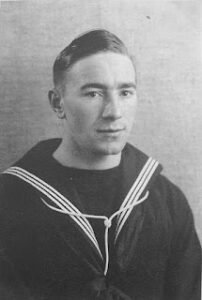 For some time I was unable to confirm that this Lancelot Bell had a link with St. Bees. But then Mr. Arthur Irving remembered a 'Lant' Bell who became a sailor and was lost at sea. There was no mention of him in the local papers following his death, but confirmation came through an article in "The Whitehaven News" on 20th April 1944, which said in reference to John Jackson's death "This is the third St. Beghian to be killed. The others were 'Lant' Bell in the navy, and Alan Rodgers in the R.A.F. – one member in each arm of the Forces".
Tanker "Empire Gem"
Builder: Harland & Wolff, Scotland. Gross Tonnage: 8,139 tons. Completed: 1941.
Length: 464 feet. Armament: 4 inch gun at stern, 12 lb. AA gun and machine guns.
Torpedoed and sunk off Cape Hatteras, North Carolina, 24th January 1942.
The "Empire Gem", owned by the British Tanker Company, was on a course from Port Arthur, Texas, to Halifax, Nova Scotia, from where she would have joined a convoy to the UK. She was carrying almost 11,000 tons of petroleum spirit. Close to the coast of North Carolina, she was on a zig-zag course and about to overtake the bulk-ore carrier "Venore" when intercepted by the German U-boat U-66.
A torpedo from the U-66 struck the "Empire Gem" near the stern. Her cargo of petrol ignited and the rear of the ship quickly became a raging inferno. The crew were unable to control the blaze, and after some hours the stern parted from the bow section and sank. But by this time the bow was on fire too, and although the remaining crew fought the blaze throughout the night, it finally capsized and sank. Of the original crew of fifty-seven, only Captain Broad and the radio operator survived.
The U-66 then turned its attention to the "Venore", sinking her with its last torpedo. The "Empire Gem" and the "Venore" were the U-66's ninth and tenth successes. It sank a further twenty-six allied vessels before itself being destroyed in May 1944.
See also here.