St Bees Dead of the First World War
Roll of Honour
William Ball
5th Border Regiment.
Killed in Action Ypres 1916, aged 23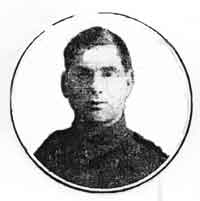 From the 'Whitehaven News' 18 May 1915:
LANCE-CORPORAL W. BALL Mr. and Mrs J Ball have had many letters from friends of their son at the front, including: Second Lieutenant A.G. Condi writes that Lance-Corpl. Ball was killed by a shell which burst in the trench where he was working, and death was instantaneous. Lieut. Condi had only been working as bombing officer for ten days, and he found Ball a very willing and hard-working boy. "I know," he adds, "that all the men of the section thought a great deal of him, and I am extremely sorry to have lost a very promising non-commissioned officer, who had already done very great credit to the bombers. He lies in the ———— cemetery, along with Corporal Mirehouse, who was killed by the same shell".
Private R. Harker writes for himself and Private Brown. He says that he and Ball were like two brothers. "We were seldom parted. He was very highly respected by both officers and men, and the battalion will deeply feel his loss. He had no fear, always willing to go where there was danger, and cheerful in the trenches when things were at their roughest. I was only two yards from him when it happened, and was buried in the debris. I suffered very little from injuries, but the shock was awful".
Sergeant-Major R. Haysom writes "Your son was a brave soldier and a promising N.C.O. He had splendid work with the bombing section and will be much missed by us".
Sergeant W. Tiffin writes in similar terms of Lance-Corporal Ball's good comradeship and his feats of bravery, some of which the Sergeant witnessed.
Sergeant Bates also bears similar testimony to L/Cpl. Ball's good qualities and the general high respect in which he was held, and so does Driver R. Fee. Privates Albert Young, T. McKee and J. Parker also wrote letters of condolence.
(2nd Lt. Condi, an Old Boy of St. Bees School, was himself killed sixteen days later – Ed).
In the same Issue of the 'Whitehaven News' is an account of a 'Patriotic Entertainment' given at Sandwith by the Sunday School and the G. F. S. It concludes:
"Just shortly before the concert the sad news of the death of L/Cpl. W. Ball came to his parents. One of our old school lads, and a companion of the late Corporal Mossop. The shadows of the wartime seemed to creep more around the village, and two of his sisters, who were about to take part in the entertainment, gave up their parts to others. The sympathy of all goes out to Mr. and Mrs. Ball, who mourn for their brave son. It will be remembered that scarcely two years ago their two eldest sons died within a few weeks of each other. They were in the Territorial Forces at the time, and had they been spared would doubtless have been doing their duty in France or elsewhere. "