College numbers initially dropped during the 1870s but picked up again in the 1880s with a maximum yearly intake of 47 in 1883. However, the days of the College were numbered. Although St. Bees College had been a pioneering institution, by challenging the academic monopoly of Oxford and Cambridge, the rest of the country had caught up.
There were now numerous theological colleges, modelled on St. Bees, but mainly in large cities and affiliated in some way to a university. Standards were rising, and in 1893 the Bishops of the Church of England agreed that a common entrance exam must be taken before non-graduates could enter a theological college. This dramatically affected the numbers at St. Bees as it channelled theological candidates down the graduate route.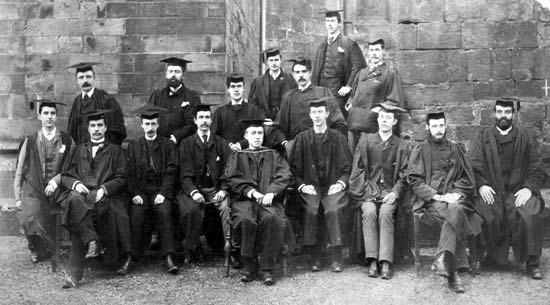 The class of 1890 with Rev'd Smallpiece seated in the middle.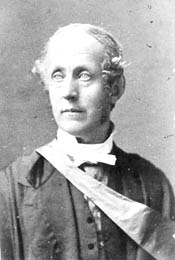 In December 1895 at the end of term meeting, Knowles accepted the inevitable and gave notice of the closure of the College. He was now 75, and as the College was a private institution, he would have to find a successor in an unfavourable climate if it was to continue. This was now unlikely, and he had to take action to prevent his own financial ruin. Canon Knowles left in 1896, and the life of St. Bees Priory settled down once more to being a parish church under the new Vicar, the Rev Alexander.
St. Bees Theological College had an productive and influential Life. It trained over 2,500 clergy for the ministry, and had been the model for the new breed of theological colleges. It ultimately failed because of its geographical position and the refusal of Parkinson to allow it to come fully under Church management.
Consequently there was no real effort by the Church of England hierarchy to keep this private college going, when supplies of clergy were assured from other colleges within the Church.
So ended this important episode in the history of clergy training in the Church of England.