The Post-Reformation Church
The Priory was dissolved by order of Henry VIII on 16th October 1539. The monks and Prior were pensioned off, but the nave and tower crossing were retained in use as a parish church. The prior became the first vicar of St Bees. As a result, St. Bees has one of the most complete set of parish records in the country, which date from 1539. These are now in the public record office in Whitehaven.
The Monastic chancel had its roof stripped, but some of the cloister buildings and the gatehouse survived until the 1800's. Access was no longer by the west door, but by a porch on the north side. Three views are shown below from this period.
The earlist known drawing of the Priory, dating from 1639, 100 years after the dissolution.
This shows the roofless east end, and the walled up arches on the south side. This indicates the chapel to the south fell before the monastic priory was dissolved.
It is likely the crenelated tower was part of the resoration of 1611.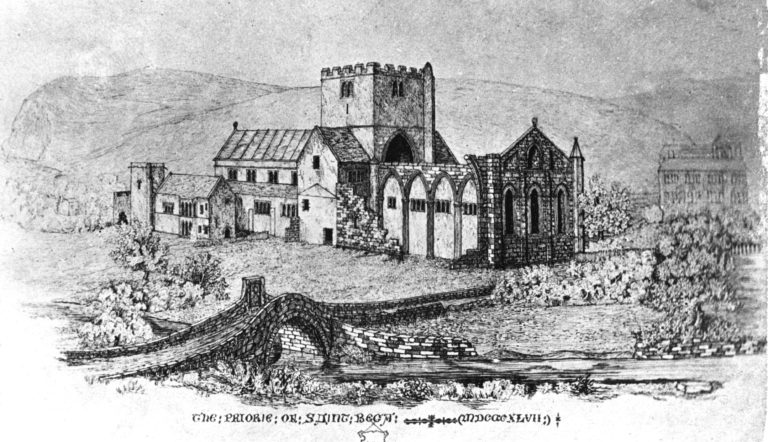 Buck's view of 1739. Essentilally the same as the 1639 view. It shows the remains of the south range of the cloister and the gatehouse on the left.
The ruins of the Lady Chapel abut the transept, and the monastic chancel is still roofless.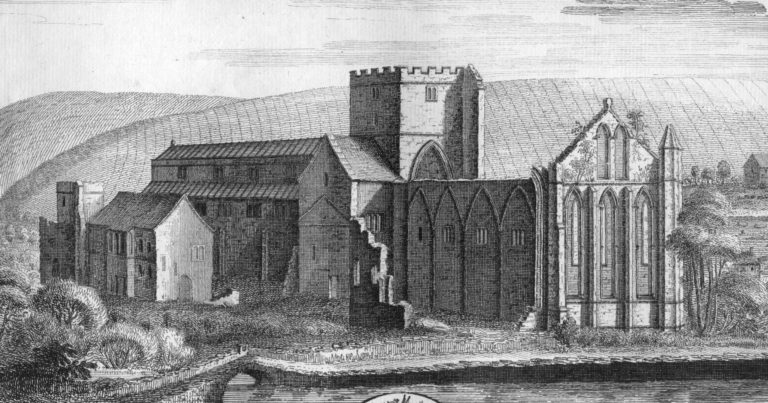 The Priory in 1775. The roofless chancel of the monastic church is seen on the left, and on the far right is the old monastic gatehouse. The West Door was unused at this time and entry to the church was by the porch seen abutting the North aisle.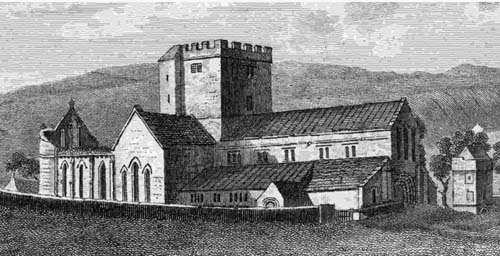 It is known that the church was extensively repaired in 1611 and a stone with this date, thought to have the initials of the churchwardens, is set in the wall of the baptistery (see below).
During this period essential repairs were carried out, and the church was in regular use, but it was not until the 1800's that the great era of restoration began.