St Bees - Isle of Man Submarine Cable
St Bees Head is the closest part of the English mainland to the Isle of Man, so it was logical that when a telegraph cable was laid from the island, it should come ashore at St. Bees.
The first cable was laid from Ramsey in 1859 by the Isle of Man Telegraph Company and was 36 nautical miles long.
At the St Bees end the cable terminated in the telegraph hut shown above and the lines then went overhead to the railway station, where they connected to the English telegraph system. To cope with increased traffic, two more cables were laid, in 1875 and 1885. The installation was taken over by the GPO in 1870.
Not only was this the shortest distance to the IOM, but St. Bees had a large sandy beach which would allow easy burying of the cable in the inter-tidal area, and there was access to the national telegraph network at the railway station.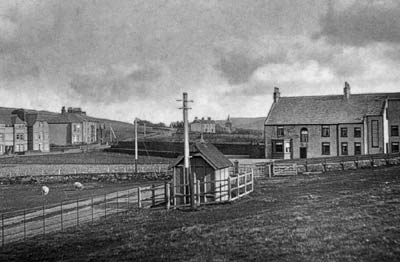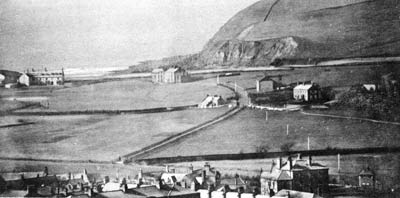 1905 photo of Railway station.
The large pole on the right is carrying domestic telegraph wires from the railway station, to the telegraph office at 22 Main Street.
The local wires and those from the IOM were connected at the signal box into the main English telegraph network, which would be carried on the trackside poles, one of which can be seen on the left of the signal box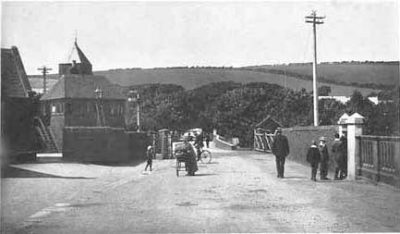 The telegraph office was at 22 Main Street, and had a large pole sticking out of the roof, which can be seen here.
It later also became the telephone exchange. The "Bell" advertising sign can be seen by the doorway.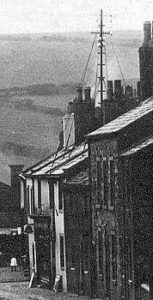 The other end of the cables at Port Cornaa near Ramsey in the Isle of Man.
Today the cable hut's a rather nice beach house.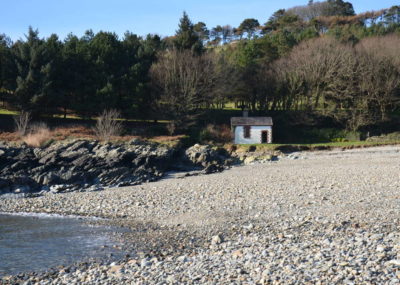 Images of the cable on St Bees beach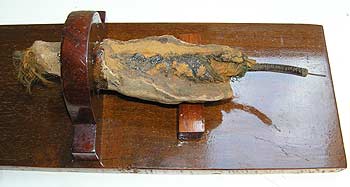 This is a section of undersea telegraph cable laid from St Bees to near Ramsey in the Isle of Man – 36 nautical miles. This fragment has been recovered from the beach.
It has a copper core insulated with Gutta Percha rubber, and served with jute packing and shrouded in an iron wire armoured sheath.
The core is 3/64 of an inch in diameter, and would have had a line  resistance of about 630 ohms.
The signal would have been binary on/off electrical impulses using Morse code. Three such cables were laid in 1859, 1875 and 1885 on this route, and they were for some time the only direct means of high speed communication between the Island and the UK mainland.